_________________________________
Full Moon Women's Circle
With Kristina Coco-Hackenjos
Friday, 9/13 7:30-9:00
Ritual, Yoga, Intention Setting
For women and all female-identifying persons.
September brings us the Harvest Moon!
It is truly powerful when women come together in circle to support one another and their intentions. This is an evening where we will be in circle and nurture our tribe by:
-Building a community altar together.
-Experiencing grounding and meditation.
-Setting and sharing intentions with each other. (Sharing always optional)
-Celebrating the powerful energy of the full moon.
Please feel welcome to bring something to place on the community altar. (An item to support your intention and/or to infuse with the positive energy of the circle)
Space is limited, please register in advance to secure your spot. $20 per person
_________________________________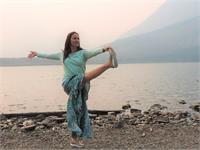 Yoga for Brain Health Series
With Susana Laborde-Blaj
Sundays 9/22, 9/29, 10/6, 10/13 2:00-4:00pm
Use the tools of the ancient tradition of yoga to optimize your brain performance. More and more, neuroscientists have been finding that mindfulness, specific breathing exercises, conscious movement and meditation have a direct impact on brain performance. The yogis have been using these elements for thousands of years. Today we have available both the findings and knowledge of our modern scientists and the wisdom of the ancestral yogis.
Increase integration/communication of brain hemispheres
Increase concentration/focus
Increase coordination/spacial awareness
Increase neuroplasticity ("The brain's ability to reorganize itself by forming new neural connections throughout life." William C. Shiel Jr MD, medicinet.com)
Expect:A 30 minute presentation with short exercises
30 minutes of basic dance steps with Latino music (Salsa, Bachata, Cumbia, Salsa, Cha Cha Cha, Tango)
A 75 minute guided Viniyoga practice including Āsana, Chant & Prānāyāma
A 15 minute MeditationCome to 1, 2, 3 or 4 sessions!
All levels welcome.
Continuing Education: Upon request.
Note: There will be a slight increment of difficulty throughout the sessions, and a very short homework will be given at each individual session.
Dates: Sundays September 22 & 29, October 6 & 13, 2019
2 pm to 4 pm
Cost: 1 session $40, 2 sessions $75, 3 sessions $105,4 sessions $120
_________________________________

Updating the Vinyasa
With Kelly Haller
Saturday 10/5/19 1:00-3:00pm
Have you ever heard a yoga teacher mention "vinyasa" during sun salutations and wonder what it is and if you are doing it correctly? Then this workshop is for you! Or, are you a seasoned yogi wanting to incorporate more strength and control in this part of your practice? Then this workshop is also for you! In this two hour workshop we will cover the traditional vinyasa (plank-chaturanga-updog) and how to update it to promote more strength and power in our practice. Participants will learn how to best fashion the vinyasa to suit their needs and will feel more empowered when taking flow or power classes.
Cost: $30 with Preregistration, $35 Drop In.
_________________________________
Unless otherwise specified in the workshop or event description, cancellations made up to 72 hours before the workshop or event will result in a full refund, less a $10 processing fee, or a full Imagine Yoga Studio credit with no fee. No refunds are granted for cancellations made with less than 72-hour notice. Please email info@imagineyogastudio.com to request a refund. Imagine Yoga Studio reserves the right to cancel workshops, in which case a full refund will be granted to those registered.